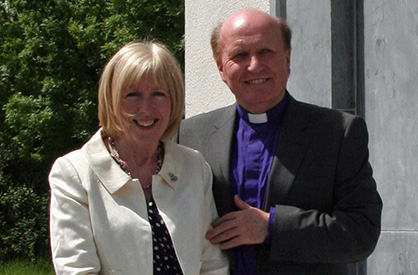 Bishop Ferran Glenfield (Deacon 1991, Priest 1992, Bishop 2013)
Bishop Ferran was elected Bishop by the Episcopal Electoral College for Kilmore, Elphin and Ardagh on the 4th February 2013. He was consecrated on Friday 31st May 2013 in Armagh Cathedral and Enthroned in St. John's Cathedral, Sligo on Sunday 9th June 2013 and St. Fethlimidh's Cathedral, Kilmore on Sunday 16th June 2013.
Previous to his appointment he was Rector of Hillsborough Parish (Down Diocese). He succeeds the Right Revd Ken Clarke, who is now Director of SAMS Ireland.
Bishop Ferran is a graduate of Queen's University Belfast. He taught before training for the ordained ministry and completed theological studies in Trinity College Dublin and the University of Oxford. Ordained deacon in 1991 for the Douglas Union of Parishes, he continued to serve in the Dioceses of Cork, Cloyne and Ross as the Rector of Rathcooney Union of Parishes. In 1996 he moved to Dublin Diocese to become the Rector of Kill o'the Grange Parish in Blackrock where he served for sixteen years before moving to Hillsborough in 2012. In addition to parish experience, he has been involved in theological education most notably through the Irish College of Preachers and the Church of Ireland Theological Institute. He is married to Jean, who is Head of the Preparatory Department in Wesley College, Dublin and they have three children. The Bishop enjoys walking and sports, particularly rugby.
The bishop–elect said: 'I am very surprised but deeply honoured to be asked to serve in this capacity as Bishop of Kilmore, Elphin and Ardagh. While the news is coupled with sadness in leaving Hillsborough, I look forward to working in the United Dioceses which is a very special part of the world.'
The Most Revd Dr Richard Clarke, Archbishop of Armagh and Primate of All Ireland, said, 'I have known Ferran since we were both clergy in Cork Diocese and am an admirer of his intellect, energy and spirituality, and I wish him well in the future.'