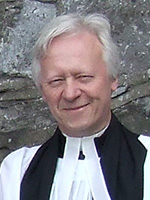 Canon David Catterall, Rector of the Longford group of parishes has retired at the end of July after 17 years of service in the parish. David, a scientist by training, prepared for the ordained ministry in Cranmer Hall, Durham in England. He was ordained 40 years ago and served in a number of curacies in Manchester. He then moved to Ireland in 1988 becoming rector of the Fanlobus group of parishes based around Dunmanway in West Cork.
Bishop Ferran writes, 'I first came across David and his wife Janet while serving in Cork Diocese together almost 30 years ago. David is a most diligent priest whose ministry has been characterised by Christ-like care and compassion. I have spent many dinner times with David, Janet and their family enjoying food and putting the world to right!'
David then became Warden of the Church's Ministry of Healing which took him across much of Ireland. His wife Janet became the incumbent of the Drung group of parishes in Cavan, which was their introduction to KEA. David became rector of Longford in 2002 and Janet took the neighbouring Mostrim group the same year. David has been Prebendary of Oran in Sligo Cathedral since 2008 and Janet was Prebendary of Mulhuddart in St. Patrick's Cathedral, Dublin from 2005 until her retirement in 2016.
The Catteralls are not moving far, retiring in Longford town. Two of their adult children live in the vicinity and the other is raising a family in the United States.
We wish David God's richest blessing as he retires from a lifetime of active service. We thank God for David and Janet and pray that they may enjoy rest from their labours.
https://www.dkea.ie/wp-content/uploads/2014/06/Canon-David-Catterall-LONGFORD.jpg
200
150
kea-admin
https://www.dkea.ie/wp-content/uploads/2014/05/kilmore-logo.jpg
kea-admin
2019-08-20 14:16:41
2019-08-20 14:16:41
Canon David Catterall Retires