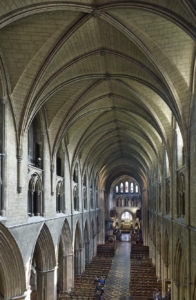 Congratulations to Canon Edward Yendall who was installed as our Diocesan Canon in in St. Patrick's on Tuesday 7th March.
St. Patrick's Cathedral, Dublin, is the Church of Ireland's National Cathedral, with a common relation to all of the 11 dioceses which make up our Church. Like all cathedrals, in part it is governed by a group called the Chapter, which is made up of Canons. There is a Canon to represent each of the dioceses, and Bishop Ferran has recently appointed, Canon Edward Yendall, as our diocesan Canon. This is a great honour for Edward, and we send him our congratulations and good wishes.
Once installed, Canon Edward's responsibilities (while continuing his ministry locally) will include participating in meetings of the Chapter and spending two different weeks of the year 'in residence' in the Cathedral, which involve being present and involved in its daily life, assisting at weekday services, and preaching at the morning and afternoon service on the Sunday. To learn more about St. Patrick's, you might like to visit its website at the link above.
'O God, the King of glory, who art ever adored by thy holy angels, yet delightest in the praises of the sons of men: Prosper with thy blessing, we beseech thee, the work of our National Cathedral; that they who minister or worship therein may offer unto thee true and laudable service, for thy honour and glory; through Jesus Christ our Lord. Amen.'
(adapted from 'Parish Prayers' by Frank Colquhoun)
https://www.dkea.ie/wp-content/uploads/2023/03/22931312339_f71f8f8deb_o.jpg
1338
872
kea-admin
https://www.dkea.ie/wp-content/uploads/2014/05/kilmore-logo.jpg
kea-admin
2023-03-10 21:07:46
2023-03-10 21:07:46
Canon Edward Yendall installed as Canon in St Patrick's Cathedral