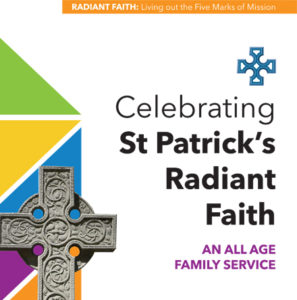 Looking ahead to St Patrick's Day, the Church of Ireland Council for Mission has produced an all-age family service resource – Celebrating St Patrick's Radiant Faith – for use across the island of Ireland.  This resource includes prayers and actions that focus on how St Patrick's ministry reflected the themes of the Anglican Communion's Five Marks of Mission, and how Christians can follow his example and live out their faith in Jesus today.
The Five Marks of Mission are:
To proclaim the Good News of the Kingdom;
To teach, baptise and nurture new believers;
To respond to human need by loving service;
To transform unjust structures of society, to challenge violence of every kind and pursue peace and reconciliation; and
To strive to safeguard the integrity of creation, and sustain and renew the life of the earth.
The resource relates each of these to St Patrick's life i.e. in his return to Ireland to tell people about the love of God in Jesus Christ, his teaching on the Father, Son and Holy Spirit, leaving his country to follow God's call and serve the people of Ireland, and his experiences both as a slave and a shepherd.
The Revd Adam Pullen, Chairman of the Council for Mission, said: 'The radiant faith of St Patrick, our patron saint, led to his proclamation and sharing of the good news of Jesus in faith, action and symbol.  I hope that all who use this imaginative and interactive resource, prepared by the Council of Mission, will find it to be an encouragement as we celebrate St Patrick.  May it help us as we radiate our faith in prayerful and practical ways across this island.'
The resource is available to download from the following link: http://bit.ly/2EerGLV
https://www.dkea.ie/wp-content/uploads/2019/02/St-Patrick-Faith-01.jpg
444
440
kea-admin
https://www.dkea.ie/wp-content/uploads/2014/05/kilmore-logo.jpg
kea-admin
2019-02-25 11:30:04
2019-02-25 11:30:04
Celebrating St Patrick's Radiant Faith