On Sunday 3rd July, Cloonclare Parish Church, Manorhamilton, Co. Leitrim hosted an Ecumenical Service of Commemoration to mark the centenary of both the Easter Rising of 1916 and the Battle of the Somme. The Service was led by Rev. Brendan McCarty assisted by Albert Dawson and was attended by Bishop Leo O'Reilly of the Roman Catholic Church, Bishop Ferran Glenfield of the Church of Ireland, local Parish Priest Fr. Oliver Kelly and Rev. Jeremy Nicholl of the Methodist Church. Members of the Organisation of National Ex-servicemen (ONE) and British Legion where also among the congregation.
Albert Dawson began the service by reading excerpts of letters from soldiers on the frontline of the conflicts. This was followed by a bidding prayer remembering those who have suffered through war and those who have given their lives or were injured in the service of others. The singing during the service was led by the Manorhamilton South Gospel and Margaret Connolly read the lesson from Mark 13 as Gaeilge.
After the prayers a wreath was laid by Mr Thomas Heraghty to commemorate the many men and women from Leitrim and the island of Ireland who gave of themselves for an independent Ireland and for a free Europe. This was followed by a minute's silence.
The guest speaker was Professor Eunan O'Halpin, Professor of Contemporary Irish History at Trinity College Dublin who shared some interesting reflections on the Easter Rising and the Battle of the Somme and how these events have been incorporated into the narrative of Irish History. He reminded the congregation of how groups and individuals can attach different meanings to such events. The task of contemporary society is, therefore, to appreciate that there are completely different ways to remember and commemorate them.
The service ended with the Grace led by Bishop Ferran Glenfield and Bishop Leo O'Reilly and the evening concluded with a wonderful reception in the Bee Park Community Centre.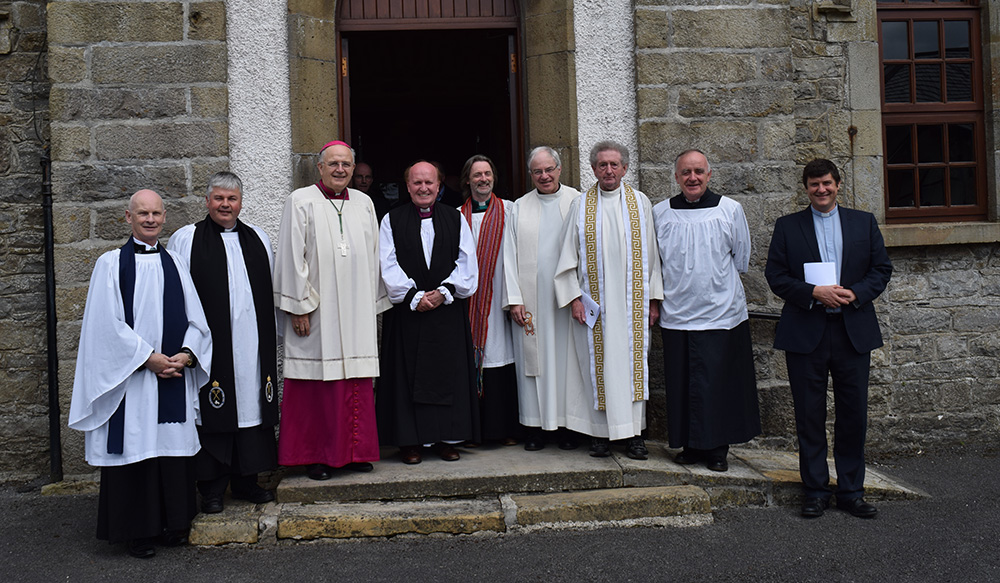 Left to Right: Albert Dawson, Revd. Isaac Hanna, Bishop Leo O'Reilly, Bishop Ferran Glenfield, Revd. Brendan McCarthy, Fr. Gerry Atwell, Fr. John Quinn, Fr. Oliver Kelly, Revd. Jeremy Nicoll.
Bishop Ferran and Bishop Leo together with the guest speaker Professor Eunan O'Halpin, local clergy and members of ONE and the British Legion.
https://www.dkea.ie/wp-content/uploads/2014/05/kilmore-logo.jpg
0
0
kea-admin
https://www.dkea.ie/wp-content/uploads/2014/05/kilmore-logo.jpg
kea-admin
2016-07-07 13:18:41
2016-07-07 13:19:29
Centenary Commemorations