Last Sunday evening 3rd September, Revd. Richard Beadle, Revd. Simon Scott and Revd. Richard Waller were ordained as Prebyters in the Church of Ireland by Rt. Revd. Ferran Glenfield, the Bishop of Kilmore, Elphin and Ardagh in St Fethlimidh's Cathedral, Kilmore.
Rev. Capt. Richard Beadle has been appointed as Bishops Curate to the Manorhamilton Group of Parishes. He is married to Pauline and has three teenage children – Ruth Alicia and Asher. Rev. Richard has been an active Church Army Officer in the Diocese for many years before continuing this journey as an ordained minister in the Swanlinbar and Kildallon group of Parishes. Before joining the Church Army, Richard worked in the Employment service in the UK, while serving in his local parish, St Marks in Gillingham, Kent, where his faith took on a new depth.
Revd. Richard was commissioned as a Church Army Evangelist in 1998 and served the parishes of St John and St Philips in Nelson, East Lancashire 1998-2001.  A clear sense of call to Ireland brought Richard and Pauline to St. Matthews on the Shankill Road in Belfast, where he worked as a parish evangelist between 2001- 2007.  In 2016, he was selected for ordination and was ordained deacon later that year.
Revd. Simon has been appointed as Bishops Curate to the Kildrumferton group of Parishes. He grew up in Dublin and has a background in horticulture running his own business prior to entering the Church of Ireland Theological Institute. For the last year he has served as a deacon in the Edenderry Union of Parishes (diocese of Meath and Kildare) alongside the rector Canon Lynda Peilow.
Revd. Simon is married to Tamara, who hails from Australia and they have a young son Micaiah and an energetic dog. Both Simon and Tamara are really look forward to calling Cavan home and seeing God's love at work in people's lives.
Revd. Capt. Richard Waller has been appointed as Bishop's Curate to the Kildallon Group of Parishes. He has been the deacon intern in the Killeshandra Group of Parishes since September 2016 and is excited to be able to continue to serve in this neighbouring Group of Parishes. Prior to his training for ordination at the Church of Ireland Theological Institute, Revd. Richard and his wife lived in inner city East Belfast so the contrast now with rural life is very much an enriching experience.
Richard is married to Janette who currently works on the switchboard and reception at the Ulster Independent Clinic, Belfast. They have been made to feel welcome already in the deacon intern year and so are looking forward to getting to know people in the Killdallon Group of Parishes as Richard begins this new chapter of ministry.
Revd. Ken Gibson, CEO of the Leprosy Mission, gave the Address. Preaching from Matthew 9 vs 35-38, Revd. Ken encouraged the candidates as well as the congregation to strive to see people as Jesus sees them. To see how they are affected in order to effectively preach, teach and heal. In his sermon he noted the similarities between an ordination service and a wedding ceremony or baptism and encouraged all those present to verbally express their support for the candidates as they begin their roles as ministers and stewards of God's word and sacraments.
A service of welcome will take place for each of our newly ordained ministers:
Revd. Richard Beadle on Friday 8th September at 730pm in Cloonclare Parish Church.
Revd. Richard Waller on Friday 8pm in Kildallon Parish Church
Revd. Simon Scott on Sunday 11th September at 1030am in Ballymachugh Parish Church.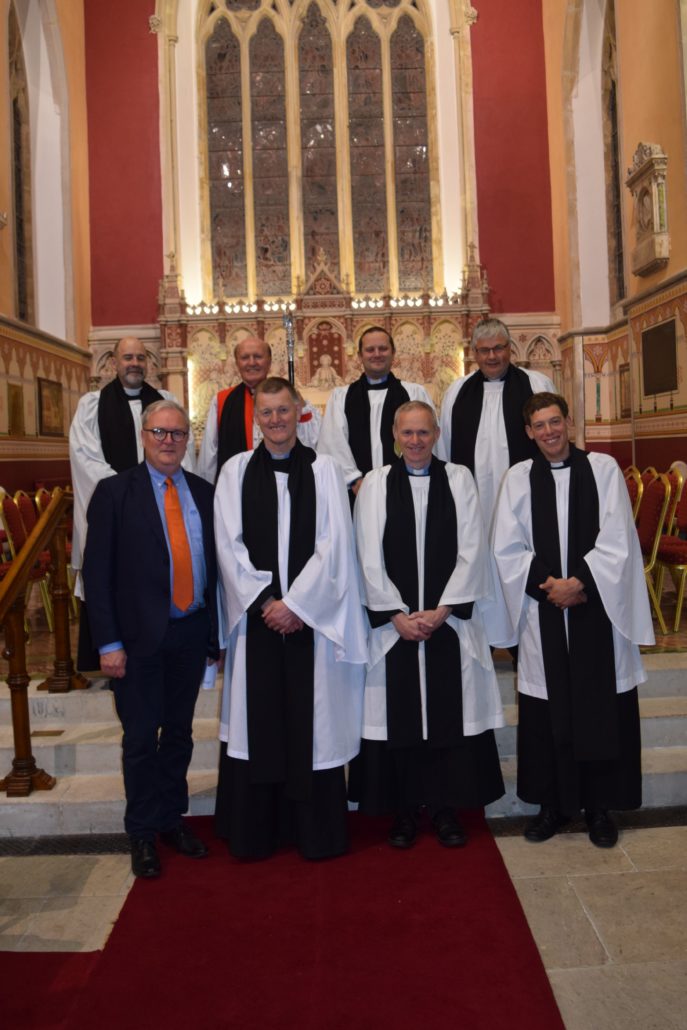 Front row l-r: Revd. Ken Gibson, Revd. Richard Waller, Revd. Richard Beadle, Revd. Simon Scott
Back row l-r: Dean. Nigel Crossey, Bishop Ferran Glenfield, The Ven. Craig McCauley, The Ven. Isaac Hanna.
https://www.dkea.ie/wp-content/uploads/2017/09/DSC_2220.jpg
5294
3530
kea-admin
https://www.dkea.ie/wp-content/uploads/2014/05/kilmore-logo.jpg
kea-admin
2017-09-04 13:54:02
2017-09-04 13:54:25
Ordination of Richard Beadle, Simon Scott and Richard Waller